Obituary: Yoga "Olga" Syahputra
This is a reposted article from my old Wordpress blog which I wrote 5 years ago. That means Olga Syhaputra leave us to eternal life for 5 years. Olga Syahputra is one of My most favorite comedian, my alay email accounts using his name.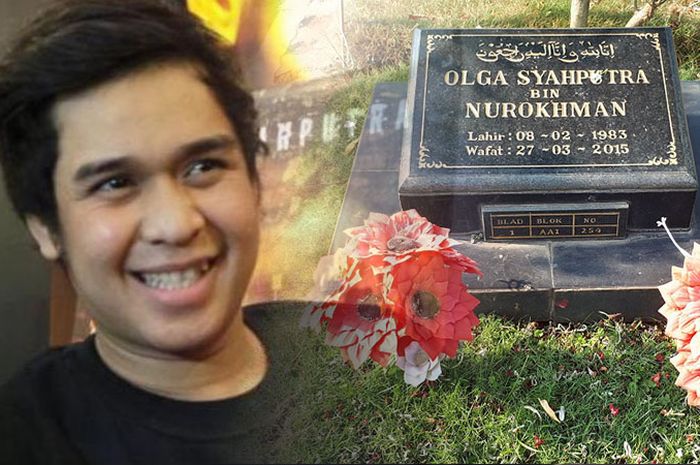 sumber dan pemilik gambar : grid.id
In July 2007, Indonesian comedy lost one of its best comedians, Taufik Savalas. He died due to a traffic accident in Jogjakarta – Purworejo artery road. At the time, he was one of the most loved comedians. He became a brand ambassador of most famous soap in Indonesia, he was President of BBM Republic in Republic BBM Talk show, later many talk shows adapt this political – comedy talk show format.
His death surprised the entire nation. Many people came to his funeral and show the condolences, from his comedian friends, Indonesia Minister, and many fans of him which came from around Jakarta. Almost all News and Entertainment news in every national channel talk about this accident for a week since the accident. And I strongly remember one of Silet's episodes which interviewed the closest comedian partner of Alm. Taufik Savalas. In that episode, Silet interviewed Ulfa Dwijayanti. Ulfa has become Alm. Taufik Salava's partner for many shows like

Sahur Kita

in SCTV and others.
One of the questions from Silent reporter is "Who is the current comedian will success like Alm. Taufik Savalas? Which own many television programs and have a big heart to help others," I forget what exactly Ulfa said but I remember the answer is Olga Syahputra. At that time (2007), Olga was playing only for few TV programs we could see him in Series Talk Show and Extravaganza ABG. Both of them are Trans TV programs, and Olga only played as supporting actors.
In 2008, Olga started being the host in Dahsyat, music – variety show which still exists until 2018. He got great chemistry bond with his compatriot, Raffi and Luna Maya. Indonesian TV spectator liked this show at the time, most of that because of Olga Syahputa and friends joke yet about the music. They gig are spontaneous jokes, like roast the guest star, tell some gossip about other host or artist. Olga's way to deliver the joke liked by the middle-down class society which represented almost 60% of the Indonesia Population.
Then, many shows used Olga's charismatic to attract the audience. Olga play on many programs, besides Dahsyat in the morning, he also hosted at Online talk show at the noon, Opera Van Java and OKB in the evening and many more. It is shown that Olga was like by almost of Indonesia People, even though many of them also hated him because he always acts as transgender, but I am sure many people love him rather than hate him.
He also loved by many people because he has a big heart to help others, many poor people got help from him. I will not list all his kindness. But, one of many Olga's remarkable programs for me is "Catatan Si Olga", this program shows Olga daily activity with some part shown he visit the poor people. Some people may be hated this program because it seems supercilious and "Unreality" shows. But for me, it entertained and insight full. Olga hosted it in a funny way even the poor people who get helped also smiling.
March 27

Th

2015, Olga died due to lymphatic cancer and meningitis. He was got treatment for his illness one-year before. He looks very bad at the time. Now Allah took all of his illness. His funeral was attended by many people, from his comedian friends to poor people who got help from him. It was been breaking news for Indonesian television for 3 days. Until now, his partner, like Raffi Ahmad and Luna Maya, still regularly visits his graveyard.
I think Ulfa's prediction has been coming true. Olga Syahputra rules Indonesian television share at his crown time and we enjoyed that. Above all of the controversy, like or hate, Olga deserves a peace-full grave. Let's forgive him for all of his bad jokes and hope Allah Subhanahu WaTa'ala forgives all his sins. And hope someday there will be someone who entertains us in a better way.